N15016

Telescopic function for installation
within the original rails without
protrusion.

Aerofoil profile.

Quick installation

Complete with locks.
Depending to the mounting system, the pair of bars can be applied to the car by adding:

on standard rails, the appropriate Fit Kit

on flush rails, the appropriate Clamp Kit

CAPACITY: This item is a component of the SNAP modular system. The maximum capacity to be considered is always that of the component with the lowest capacity.
This limit is subordinate, however, to the maximum load shown in the vehical's user and maintenance manual.
Maximum load means: weight of the bars + weight of any applied accessories + weight of the transported load.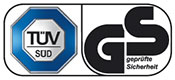 GS-TÜV max 100 kg