Snap-Fit Steel, telescopic steel roof bars, 2 pcs - Size 2 - 100÷136 cm
Snap-Fit Steel, telescopic steel roof bars, 2 pcs - Size 2 - 100÷136 cm
N15012

Telescopic function for installation
within the original rails without protrusion.

Aerofoil profile.

Snap-Fit installation with EPDM coated steel
belts and feet for a perfect fit.

Complete with locks.
Never exceed the maximum load of the bars. This limit is however subject to the maximum load illustrated in the vehicle user and maintenance manual. Always follow instructions for the lowest maximum load.

Maximum load is intended as: bar weight + weight of any applicable accessories + weight of load.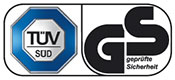 GS-TÜV max 100 kg
---