N15106

Anodized aluminium alloy wing profile bar equipped with T-track slot.

Front profile in rubber designed to eliminate the resonance effect of air flows and amplify the aerodynamic and functional efficiency of the wing profile as well as giving the car an innovative and distinctive design.

New patented "press-to-open" PTO system that allows the insertion of quick "T" connectors without having to remove the terminal.

Rubber profiles for sealing the lower tracks after the installation.

Lower tracks for the connection and the sliding of the feet. Under-bar with foot position measurements for a quick installation.
Max distance between railings: 93÷121 cm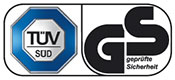 GS-TÜV max 100 kg