In-Rail Alu, aluminium roof bars, 2 pcs - S - 108 cm
In-Rail Alu, aluminium roof bars, 2 pcs - S - 108 cm
N15054

Anodized Aluminium alloy bar equipped with T-track slot.

T-track cover made of anti-slip EPDM rubber.

Lower tracks for the connection and the sliding of the feet.

Rubber profiles for sealing the lower tracks after the installation.
Never exceed the maximum load of the bars. This limit is however subject to the maximum load illustrated in the vehicle user and maintenance manual. Always follow instructions for the lowest maximum load.

Maximum load is intended as: bar weight + weight of any applicable accessories + weight of load.
Never exceed the maximum load of the bars. This limit is however subject to the maximum load illustrated in the vehicle user and maintenance manual. Always follow instructions for the lowest maximum load.

Maximum load is intended as: bar weight + weight of any applicable accessories + weight of load.
Max distance between railings: 75÷103 cm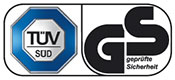 GS-TÜV max 100 kg
---